HI EVERYONE
If you found this place, then you must want to look at irises! We've posted some pictures and information about our various and sundry projects on this site, but it's not a commercial site.
If you want to BUY some of our irises, both of us are introducing through Aitken's Salmon Creek Garden; please feel free to go there directly to order our introductions online or use the ORDER ONLINE menu link above to get there. You can also contact Barbara or Terry at: Aitken's Salmon Creek Garden, 608 NW 119th St. Vancouver, WA 98685. Phone: (360) 573-4472 Fax: (360) 576-7012.
Meanwhile, since you're here, you can look at what we're up to....we've got pictures and information about new and older introductions from both Lynn and Stephanie. We've got some pictures of various seedlings and projects here as well, just to give you a hint of what each of us is up to.
Our Latest Introductions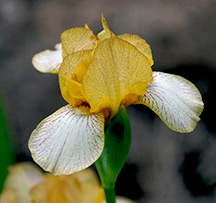 NETTED GOLD (S. Markham '15) MTB, 20" (50.8 cm), M. The pale golden yellow standards and of this petite iris are softly netted in tan. White falls, lightly netted and dotted in tan, are narrowly edged in the same pale golden yellow, and are set off by clean yellow beards and styles. Bloomstalks are plentiful and beautifully branched, with 9 or 10 buds per stalk, and it is a very vigorous grower, quickly forming a tight clump of abundant, clean foliage. Diploid and fertile both ways. Sdlg #06-37A: 02-03D, sibling 'Fernie Bridge': ('Cyber Net' x 'Razzleberry Dressing') X 02-04C, sibling to 'Going Dotty': ('Think Spring' x 'Preference').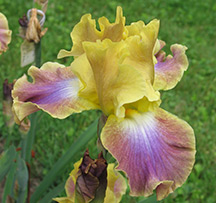 DAPPLE DAWN (Lynn Markham,'14) BB, 27" (69 cm), M. Standards lemon-gold ground with faint red luminata marbling along and beside midribs; style arms lemon; Falls lemon-gold ground with large white signals below gold beards, heavy red luminata marbling near lemon edges blending to red-violet near centers and blue-violet as it extends into the signals. Gently ruffled. Sdlg. 04-27A: 98-1B3: (94-2E, Miss Fluffy pod parent, x 96-3A: (93-62A2, Wild Petticoats sib, x Baltic Star)) X S. Markham 98-8A: (Sneezy x Answered Prayers).